Micropiles and Soil Nails: What Projects Benefit
What Are Micropiles?
Micropiles are small diameter piles, typically between 3-12 inches, that are used for foundation underpinning and new construction. They can extend up to 200 feet, and provide deep foundation support for a variety of structures.
Micropiles can be useful in areas where space limitations exist or where soil conditions are not practical for the installation of helical piers or piles. They can be used in a variety of difficult soil and ground conditions such as clays, sands, silts, gravels and cobbles—even rocks and boulders.
With their versatility and bonding capability to soils, micropiles are useful in many applications including:
Foundation support in low strength or otherwise unsuitable soils

Stabilizing foundations for tall structures such as towers or wind turbines

Stabilizing walls

Foundation underpinning

Seismic upgrades and retrofitting
What Are Soil Nails?
Soil nails are usually installed on an angle to stabilize and reinforce the face of a slope or a wall, and they are often designed in a grid pattern. Similar to micropiles, they are drilled and grouted into place. Some soil nail applications also include a reinforced shotcrete surface for additional stability.
Which One Is Right For My Project?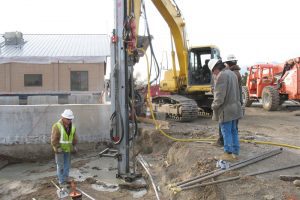 Micropiles and soil nails are essentially the same thing; the difference is in their application. Micropiles are used in tension and compression as load bearing tendons. They are made of high-strength steel casing, rebar and grout. Soil nails are typically used in steep slope or wall stabilization where the nails are installed beyond the soils' failure plane (angle of internal friction). They use grouted, tension-resistant steel nails to reinforce the soil and create a retaining wall during excavation.
Both applications utilize a hollow bar steel tendon with a sacrificial cutting bit that is installed with a rotary-percussion hammer. During installation, a neat cement and water mixture is pressure injected down the hollow bar and through the cutting bit into the soils surrounding the hollow bar/tendon. This method of installation is called Injection BOring (IBO). IBO piles and soil nails develop their strength, in both compression and tension, by the summation of the steel tendon plus the strength of the annular soil-cement bond with its surrounding soils, referred to as the area of influence.
The area of influence is the annular area in which the soils are cemented together. Micropiles and soil nails can be installed in almost any soil condition with excellent load bearing characteristics which makes them an ideal alternative in rocky or high blow count (high density) soils where helical pile installations are not conducive.
For more information or to speak to a Reno contractor, give Versa Grade a call at 775-284-1964!